Our Gala Dinner began in 2009 and over the past nine years has grown significantly. Since its
inception, the Gala has raised more than $6.7 million for industry education including
scholarships, programs and grants. We are very grateful to those who have been honored and
thank them and their companies for their generosity.
Michael Rice, JLT Specialty USA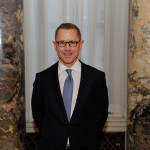 Michael Kerner (formerly with Zurich)
Edmund F. Kelly (formerly with Liberty Mutual)
John L. Lumelleau, Lockton Companies
J. Patrick Gallagher, Jr., Arthur J. Gallagher & Co.